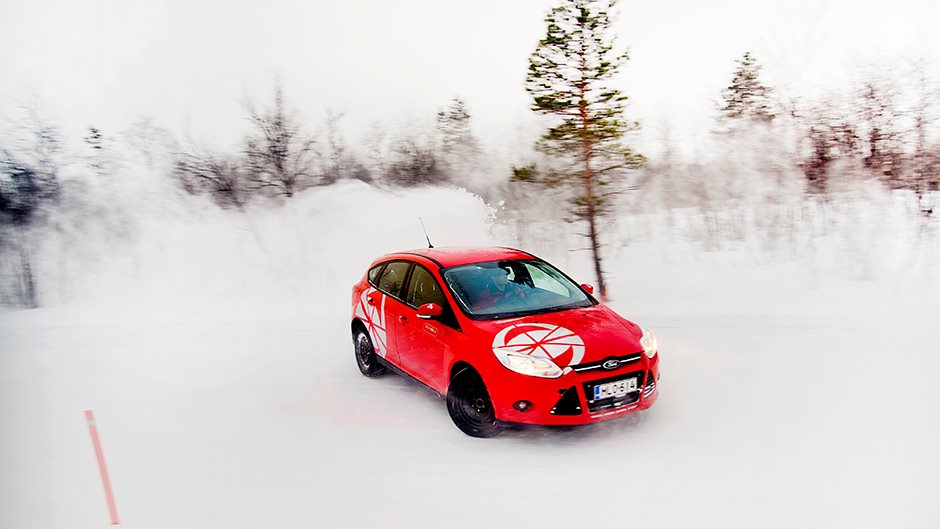 The 2015 edition of the world's most comprehensive winter tire test has been published.
The Nokian Hakkapeliitta 8 returns as the defending champion.  Continental brings an updated version of their second-place ContiIceContact – the ContiIceContact2 – to the table this year.  The rest of the top nine studded tires return as they were in 2014.  But that doesn't mean the finishing order will remain static.  No tire can be the best at everything, so different ice, snow, and weather conditions will always result in slightly different finishing orders.
New entries include the Sava Eskimo Stud, the Nokian Nordman 5, and the Linglong Green Max Ultra Grip.  Sava is a subsidiary of Goodyear, so it's no surprise that the Eskimo Stud appears to be a rebranded version of the previous generation Goodyear winter tire, the Ultra Grip Extreme, which last appeared in an NAF test in 2011.  Similarly, the Nordman 5 appears to be a rebranded version of the Nokian Hakkapeliitta 5, but with conventional round studs in place of Nokian's more angular recent designs.  It likely uses the stud design from the Hakka 2.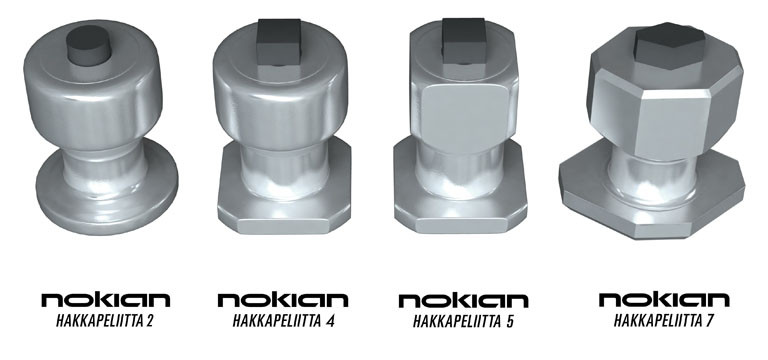 Studded Tire Rankings
Nokian Hakkapeliitta 8: 8.8 points
Continental IceContact2: 8.6 points
Hankook Winter I * Pike RS: 8.6 points
Goodyear Ultra Grip Ice Arctic: 8.5 points
Pirelli Ice Zero: 8.5 points
Dunlop Ice Touch: 8.4 points
Gislaved Nord Frost 100: 8.3 points
Michelin X-Ice North 3: 7.9 points
Bridgestone Blizzak Spike-01: 7.8 points
Sava Eskimo Stud: 7.8 points
Nordman 5: 7.7 points
Linglong Green Max Winter Grip: 7.2 points
The fight at the top was closer this year than ever before, with the top seven being separated by only 0.5 points.  The Nokian Hakka 8 came out on top again, beating Continental by the same 0.2 point margin as in 2014.  The Nokian, with its impressive 190 stud count, was easily the best tire on ice.  The disadvantage to all those studs shows in its relatively poor performance on wet asphalt and greater noise levels, though it still had the second lowest rolling resistance of all the studded tires tested, as that is more a function of tread mass than anything else.  The Continental was, like last year, simply a top performer all around and is, subjectively, the tire the testers preferred driving with on ice.  Hopefully Continental will begin to offer them in Canada again soon.  The Nokians are available at your local Kal Tire.
The big surprise this year came from Hankook, with the Winter I-Pike RS (W419).  The Korean manufacturer has been making competent studdable tires for many years with the W404 and W409, and is finally fighting at the top against the big names, finishing third in this year's competition with excellent grip in all winter conditions and the lowest rolling resistance of all the studded tires.  This tire is available in Canada, but must be studded by hand using the basic TSMI studs.  Make sure you have a competent installer if you go that route, and realize that the tire will likely not perform quite as well with those studs as with Hankook's factory European studs.
Goodyear's Ultra Grip Ice Arctic maintained fourth place, as the best tire for both acceleration and braking in snow, with competitive results in all other categories.  This tire is not available in Canada.
Pirelli's Ice Zero slipped from third in 2014 to fifth in 2015, but is still a great winter performer with excellent ice braking capability.  It is currently the highest rated factory studded tire available in Canada next to the Hakka 8.  It is strong in all road conditions, though it produced the highest road noise of any tire in the test.  These are available through PMC Tire or your local Pirelli dealer.
In sixth place, the Dunlop Ice Touch showed off excellent wet performance and was the quietest studded tire in the test.  It was a good performer in all other conditions too.  Not available in Canada though.
Gislaved had another solid performance in seventh place with the returning Nord Frost 100.  This tire was the top tire in wet braking and directional stability and was also one of the best performers in snow.  Its relatively low stud count hurt it a bit on ice but it was still competent and that low stud count contributed to it being the second quietest studded tire in the test.  Best of all, it's available in Canada in factory studded form through PMC Tire or your local Gislaved dealer, and is arguably the best value in the Canadian market.
There is a significant drop from the Gislaved to the next four tires from Michelin, Bridgestone, Sava, and Nokian.  All are respectable tires, with the Michelin and Bridgestone being dinged for high rolling resistance and the Nordman and Sava for higher noise.  But only the Nokian Nordman is available in Canada, and not always in factory studded form.
The Linglong tire was typical of an inexpensive studdable tire, and what most North Americans are familiar with for studded tires.  It has somewhat weak performance on ice and excellent – almost all-season-tire-like performance – on dry and wet asphalt, owing to a less winter-oriented compound.  While at or near the back of the pack in all winter categories, it has an aggressive enough tread to provide good snow performance and the harder rubber will likely translate to good tread life.  It will be outperformed by the studless tires in many slippery situations but when things get really dangerous on smooth, wet, warm ice, you'll still have the studs to keep things under control.
Studless Tire Rankings
Nokian Hakkapeliiitta R2: 7.7 points
Goodyear Ultra Grip Ice 2 7.6 points
Michelin X-Ice XI3: 7.6 points
Pirelli Ice Zero R: 7.6 points
Continental Conti Viking Contact 6: 7,5 points
Nordman RS: 7.0 points
Bridgestone Blizzak WS80: 6.9 points
Nankang Ice Activa Ice 1: 6.7 points
In the studless category, Nokian took the top spot while Goodyear, Michelin, Pirelli, and Continental all produced competitive offerings.  As usual, these tires typically performed just as well in snow as the studded offerings and were quieter, with less rolling resistance.  Also as usual, they typically performed poorly on ice as well as wet and dry asphalt.  The poor wet and dry performance of studless tires seems counterintuitive, considering that the addition of studs reduces performance in those areas.  But to achieve adequate winter performance without studs, more extensive siping and an extremely soft rubber compound must be used.  Both of those features become a detriment as road conditions improve.
Results table:
NAF 2015 Winter Tire Test Details